The 2012 Royalty Records ACMA Nominee's Are:
Female Artist of the Year
Katie Mission
Tenille
Male Artist of the Year
Jason Greeley
Shane Chisholm
Group/Duo of the Year
Friday Night Satellites
Hey Romeo
The Orchard
Fan's Choice
Friday Night Satellites
Hey Romeo
Jason Greeley
Katie Mission
Shane Chisholm
Tenille
The Orchard
New Category: Industry Person of the Year
Chris Nielsen-Smith – Royalty Records
Ed Harris – Highnote Marketing
R. Harlan Smith – Royalty Records
Rob Smith – Royalty Records
Cast your vote by visiting our website at:
http://www.abcountrymusic.ca and click on "Vote"
Tickets for the Awards Show Go On Sale
Monday December 17th, 2012
Saskatoon, SK (September 9, 2012)  Yesterday was a day full of award ceremonies for the 2012 Canadian Country Music Association Awards. Two award ceremonies, the CCMA Gala Awards and CCMA All-Star Band Awards celebrated the incredible talents of Canada's country music industry. The final round of awards will be handed out tonight, Sunday, September 9th at the 2012 Canadian Country Music Association Awards at the Credit Union Centre in Saskatoon, SK. Eager fans can tune into CBC Television at 8 p.m. (8:30 p.m. NT), and CMT (Canada) starting at 10 p.m. ET to find out who the 2012 winners will be.
The CCMA Gala Awards boasted outstanding performances by Jason Blaine, The Heartbroken, Small Town Pistols, Dallas Smith and The Stellas. Throughout the evening the 2012 Canadian Country Music Hall of Fame inductees, Johnny Burke and Ralph Murphy, were celebrated alongside the Hank Smith Award of Excellence recipient Larry Delaney. Also recognized for her outstanding fundraising initiatives was 2012 CCMA Award nominee and recipient of the Slaight Music Humanitarian Award, Tenille.
The CCMA All-­Star Band Awards, hosted by Wendell Ferguson, celebrated the talents of the hard working musicians who have spent hours perfecting their skills behind the scenes. Winners included Shane Chisholm, Lisa Dodd (Gord Bamford) and Rob Shapiro (Hey Romeo), among others.
SLAIGHT MUSIC HUMANITARIAN AWARD
Tenille
ALL STAR KEYBOARDS
Rob Shapiro (Hey Romeo)
ALL STAR SPECIAL INSTRUMENT
Shane Chisholm -­ Gastank Bass (Shane Chisholm)
The Alberta Country Music Association's very first Male Artist of the Year Shane Chisholm is carving his own path in the Canadian Country Music Industry.  Shane continues to build support Nationwide while earning respect from Country Music Fans and Industry alike….
Shane Chisholm's new release "This Fight Tonight" was first release by Canadian Music Legend Joni Mitchell on her Blue Album in 1971 but later became a Canadian and European hit in 1973 when Scottish Rock Group  Nazareth put there stamp on it and the song has since become a staple in the Canadian Rock n' Roll diet
Chisholm's Country arrangement of this Classic has proven it's self  time and time again in his Live Show to draw from a wide demographic as it's become their #1 Request of all time from all ages.
Single: This Flight Tonight
Cancon: 100%
Producer: Shane Chisholm
Mixed by: Bart McKay
Radio Release: July 16, 2012
Video Release: July 23, 2012
2012 CCMA Songwriters' Café Line-Up Confirmed For PotashCorp Country Music Week
July 5, 2012 (Toronto, ON) – The Canadian Country Music Association® has searched high and low to bring you some of the best songsmiths our country has to offer, and after months of careful craft consideration paid to the submissions of over one hundred applicants, the CCMA is confident that the 2012 CCMA Songwriters' Café line-up is one of the best yet. During PotashCorp Country Music Week, which will be hosted in Saskatoon from September 6-9, the CCMA Songwriters' Café will feature the commended songwriting and imminently unforgettable performances from emerging songwriters, including Shane Chisholm, Leah Daniels, Cadence Grace, Keith And Renee, Heather Longstaffe, Josh Macumber, Katie Mission, Jess Moskaluke, Small Town Pistols, Tenille, Katy Warren and Bobby Wills.
In addition to the aforementioned up-and-coming talent, the CCMA Songwriters' Café will showcase the music of several well-established acts, including Victoria Banks, Kira Isabella, Jake Mathews, Jay Semko and The Stellas, with more to be announced in the coming weeks as well as several star hosts.
"The submissions for this year's CCMA Songwriters' Café were some of the strongest we've ever had, making it a challenge to select only 12 to perform, but we're certain that the talent in this group is something to behold." said Don Green, Executive Director, CCMA. "In the past, this event has conventionally been considered an industry event, however, this year the CCMA is encouraging the public to take in some of the incredible songwriting talent that is sure to take audiences and airwaves by storm."
"SOCAN is once again very proud to sponsor the CCMA Songwriters' Café and support the talented Canadian Country songwriters who participate year after year," said Eric Baptiste, CEO of SOCAN. "This year's remarkable lineup will definitely be an inspiration to all who are lucky enough to attend and witness their extraordinary talent."
The CCMA Songwriters' Café celebrates the crafting of original tunes and the talent behind the words, acquainting listeners to some new and familiar faces along the way. Presented by SOCAN, this three day, acoustic in-the-round show is always an inspiration to industry and fans alike. The CCMA Songwriters' Café presents non-established artists selected by a national jury process as well as some established songwriters and features some of the best talent in the field of songwriting.
Tickets for the 2012 CCMA Songwriters' Café will be available online beginning Friday, July 6 at 10:00 AM EST at www.tcutickets.ca for $20 including taxes and fees. A limited number of tickets will be available at the door.
For more information on the CCMA Songwriters' Café and other PotashCorp Country Music Week events, please visit www.ccma.org.
About SOCAN
SOCAN is a not-for-profit, member-based organization that represents the Canadian performing rights of over three million Canadian and international music creators and publishers. SOCAN is proud to play a leading role in supporting the long-term success of its more than 110,000 Canadian members, as well as the Canadian music industry. SOCAN collects licence fees from over 48,000 businesses from coast to coast and distributes royalties to its members and music rights organizations around the world. SOCAN also distributes royalties to its members for the use of their music internationally in collaboration with its peer societies. www.socan.ca
We are pleased to announce Royalty Records Inc. categories that made it to 2nd round of voting for the 2012 CCMA's!
We really appreciate the support and are looking forward to September in Saskatoon, Saskatchewan.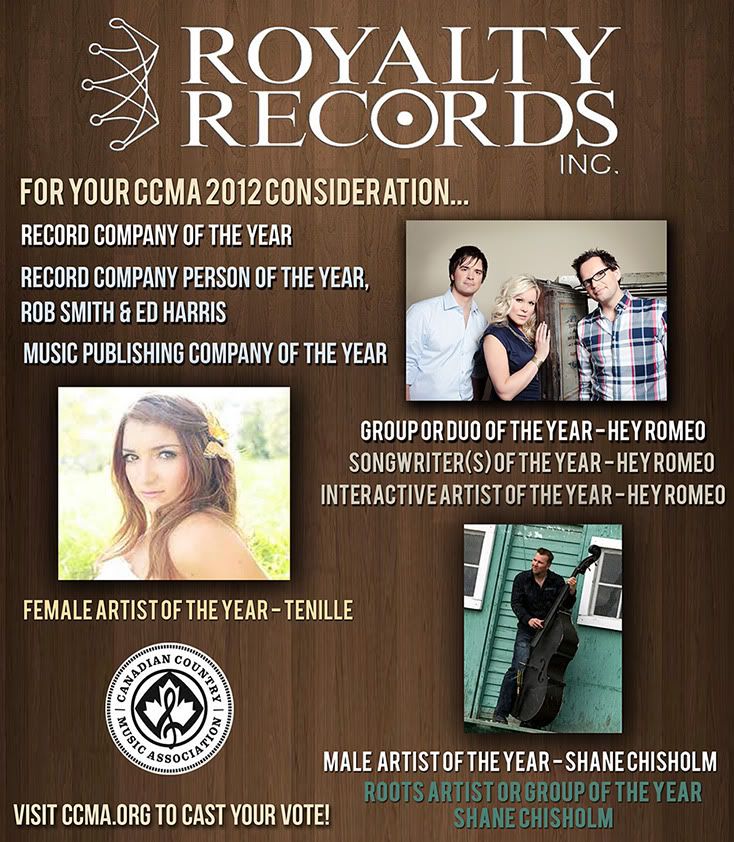 CONGRATULATIONS TO OUR 2012 ACMA WINNERS!
2011 Female Artist of the Year – Tenille
2011 Male Artist of the Year – Shane Chisholm
A special thanks goes out to Hey Romeo for hosting the 1st Annual ACMA Awards Show.
  Royalty is pleased to announce that Shane Chisholm has joined the Royalty group of artists. The 3-time CCMA Award winner has become a tour de force, performing around the globe sharing his passion for music. Shane's sophomore album "No One Came" will be released in early 2012. The album includes eight Chisholm originals plus "Walk This Way", "This Flight Tonight", and "Chattahoochie", three covers with a Shane Chishom "twist".